Have you ever heard someone say "Kids are the church of tomorrow."  At Clinton, we believe they are a part of the church of today.  Our youth activities are for everyone from cradle roll to college.  We don't limit any activities by age – we're ALL TOGETHER!  We don't "hide out" in the youth group either – we connect with the entire congregation.  Our parents are heavily involved in the coordination of our kid's program.  The Clinton church is committed to its young people and the continued growth of the youth ministry. 
SERVICE – Ephesians 4:16   .   SPIRITUAL GROWTH – 1 Peter 2:2   .   RELATIONSHIPS – 1 Timothy 5:1-2   .   RECREATION – Acts 2:44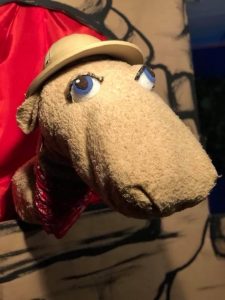 Hi there! I'm Clyde the Camel! I love God…and I love, love, love Bible stories!  I'm always at Vacation Bible School at Clinton…but I'm also here all year along with Cleo the Crocodile, Randall the Rat, Justin Beaver, and the rest of the Puppetland Crew to help YOU learn more about God's Word. 
Join us every last Sunday night of the month during our monthly fellowship meal for CLYDE'S CORNER!  We sing songs and are currently learning to say all the books of the Bible in order!
Clyde's Links
Challenge Youth Conference  .  Teenage Christian Camp  .  Freed-Hardeman University  .  Clyde's Facebook  
CONTACT US and find out more about our Youth Ministry!